Hello, and happy almost holidays!! I have been running around all week getting things ready for the Thanksgiving feast tomorrow, as I'm sure most people have been as well. But, I want to back it up a week and tell you about the amazing raw tacos we made! I got the recipes from a couple different sources, one being "Orgasm Of the Taste Buds," an amazing ebook by
Brian Lucas, aka Chef BeLive
. The last recipe (for raw vegan sour cream is from the amazing
Eliana Love
.
So here it is...the taco ingredients that I used:
Mock Refried Beans (4 servings)
IN A BLENDER OR FOOD PROCESSOR
1/4 C water (structured, spring or filtered)
1 3/4 t salt (Himilayan, Celtic, sea)
Blend until bean consitency.
MIX AVOCADO AND FOLLOWING INGREDIENTS
Juice from one lemon or lime
Add habenjero or cayenne (optional)
1 3/4 t salt (Himilayan, Celtic, sea)
this vid is really helpful, not only for the recipe, but also for how to open the coconut.
Place moderate amount of mock refried beans on bottom of a cabbage leaf. Add guacamole, sliced tomatoes, black olives, or whatever you want to the taco, and top with the raw sour cream! These turned out so delicious and I had plenty of leftovers, so I had them again the next night!
Ok, so there is that! I hope you enjoy the recipes and let me know, if you try them, what you think! :)
So, on to the next thing. I got this next recipe from a fellow blogger and absolutely loved it!! Then later, I went back through my history, to give some credit where credit is due, and I cannot find the blog anywhere!! The title of the recipe was not in the title of the blog post, and I looked though almost every one I could find, and still was unable to get back to the original blog. So, if this looks familiar to any of you, and you know where you've seen something similar before, feel free to enlighten me, as I would love to give the original blogger some credit for this bad ass recipe. So, that said, this is something perfect for one of those days when it's cold outside and you are looking for something, warm, hearty, and delicious but you are maybe feeling a bit lazy as well! ;) The prep time for this recipe was only about 30 minutes, and the cook time is 20-40 minutes of which you can sit and watch a movie, or do something else while your fantastic lunch/dinner is a'cookin! Also, it is completely vegan and full of ingredients that are great for the body. Also, and I'm sure this goes without saying, but I want to just say it anyway, it is very important to buy all of your ingredients organic, if possible. So here it is...
Green Lentil Stew w/Kabocha Squash
1 Medium Onion
1 Tablespoon Olive Oil
1 Cup Dried Green Lentils
5 Cups Water
2 Cups Spinach
1 Cup Chopped Celery
3 Tablespoons Apple Cider Vinegar
1/2 Teaspoon Sea Salt (Himalayan or Celtic)
2-3 Cloves Garlic, chopped (this was not in the original recipe, but I'm a fool for garlic, and it made a great spice!)
2 Cups Chopped Winter Squash (Kabocha)
In a large soup pot, sauté the onions in the olive oil over medium heat until the onions are soft/transparent. (Be careful not to heat these too quickly, as you do not want to burn the olive oil. Burning oil is no good for your health, and if it does burn, do not breathe the smoke, as that is toxic to the body.) Add the water, lentils, and apple cider vinegar to the pot and bring to a boil. Reduce heat to medium and add the spinach, celery, & squash. Let this simmer for 20-40 minutes, tasting it for readiness. Enjoy!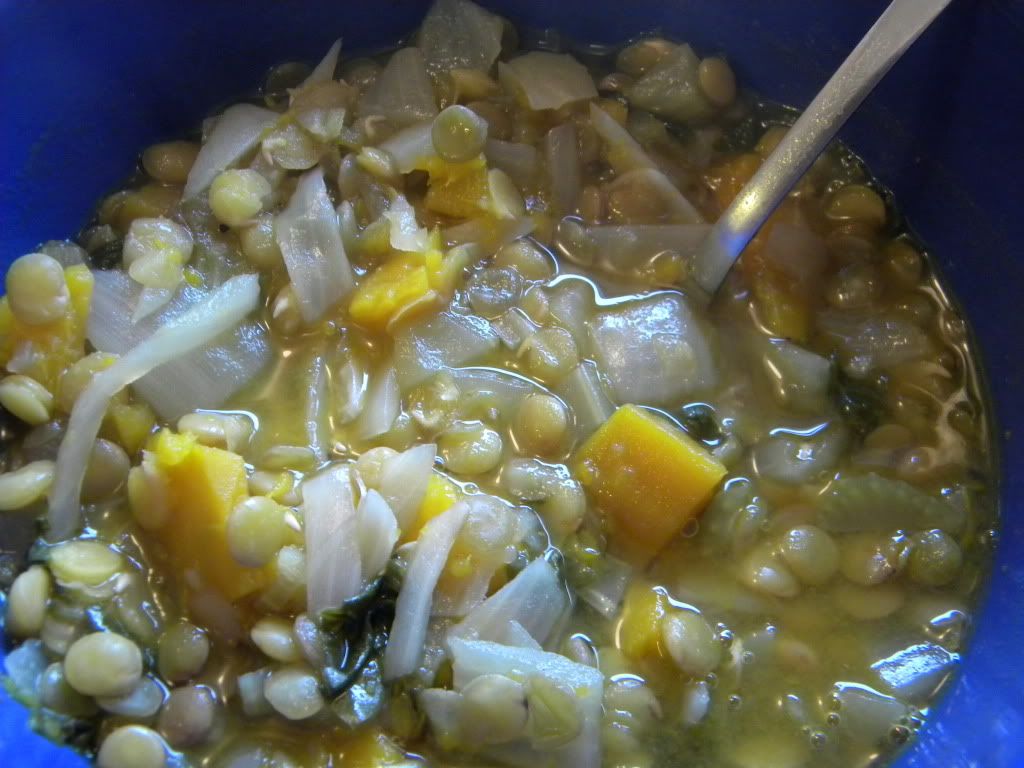 Lastly, I just want to let you know I am working on some exciting new recipes for Thanksgiving tomorrow and I will be posting some recipes on here soon, if they turn out as wonderful as I'm hoping! So I hope everyone has a great holiday and I'll be back soon! :)